At least 30 Ukrainian civilians were killed and 88 more wounded after Russians allegedly shelled Zaporizhzhia on Friday, according to multiple news outlets.
Ukrainian President Volodymyr Zelensky said Friday on Telegram that Russia fired strikes from rockets and drones, including 16 rockets in the morning, in Zaporizhzhia.
"The enemy rages and seeks revenge for our steadfastness and his failures," Zelensky said, accompanying his post with multiple photos of the carnage. "[Russian President Vladimir Putin] cynically destroys peaceful Ukrainians, because he lost everything human a long time ago. Bloodthirsty scum! You will definitely answer. For every lost Ukrainian life!"
Oleksandr Starukh, the Zaporizhzhia region governor, said on Telegram that civilians were waiting in a humanitarian convoy to leave the regional center when the attack occurred.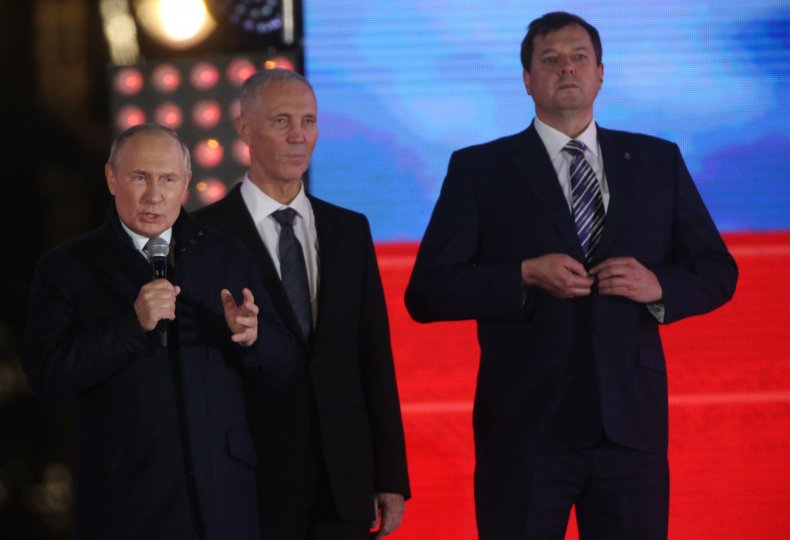 "These people went to their relatives in the occupied territories, brought humanitarian aid," he said. "They were supposed to take our fellow citizens and take them to the free part of Ukraine. The occupiers struck defenseless Ukrainians."
Russian officials denied the attack, Reuters reported. Vladimir Rogov, an official in the Russian-installed administration in the Zaporizhzhia region, blamed Ukraine and said Russia doesn't target civilians.
Ukrainian Police Colonel Sergey Ujryumov, head of the explosive disposal unit of the Zaporizhzhia police department, said Russians hit a car market with three S-300 missiles because they "know that columns are formed here to go to the occupied territories."
"They had the coordinates," Ujryumov said. "It's not a coincidental strike. It's perfectly deliberate."
Nikola Rusak, a 62-year-old delivery driver from the southern province of Kherson, told Reuters that he was sleeping inside his parked minivan about 20 yards away when a row of automobile parts shops was shelled.
"I could not understand what was happening," Rusak said. "I got out and saw people running. I was in a daze. I was just standing there frozen. I didn't know what to do," he said.
Andriy Yermak, head of the Ukrainian president's office, initially tweeted that the assault on a humanitarian convoy resulted in 25 deaths and 50 wounded, but the Associated Press, CNN and Reuters later increased the number of casualties.
"Russia is a terrorist state," Yermak said. "We need more weapons and more international sanctions to stop it."
The attack in Zaporizhzhia occurred the same day that Putin declared that the territories of Kherson, Zaporizhzhia, Donetsk and Luhansk now belong to Russia following state-sanctioned voter referendums.
NATO Secretary-General Jens Stoltenberg expressed support for Ukraine on Friday, saying that nuclear threats and annexation are attempts by Russia to alienate allies.
"Ukraine has, of course, the right to retake Ukrainian territory that is now occupied by Russian forces," Stoltenberg said. "That's the reason why we support them. So they can defend themself but also so they can continue to liberate territory. And as I said, the illegal annexation or attempt of annexing Ukrainian territory doesn't change that. It doesn't change the nature of this conflict."
Ukrainian lawmaker Oleksiy Goncharenko tweeted a video of Russian propagandist Vladlen Tatarsky recorded in the Kremlin on the same day as the annexation.
"We will defeat everyone, kill everyone, and rob everyone who needs to be robbed," Tatarsky said. "Everything will be as we like. With God!"
Newsweek reached out to Ukrainian and Russian defense ministries for comment.